Jim Edgar Voices -
Your voice for eLearning and Training

Click on the audio files below for eLearning audio samples.
---
eLearning / Training Sample -
User Interface walkthrough - helpful, peer-to-peer, training

eLearning / Training Sample -
Onboarding / intro to company culture - intimate, mission-focused, anthemic

eLearning / Training Sample -
Technical Authority - materials handling in high risk environments

eLearning / Scenario Character -
Customer Service Training - real caller, conversational language

eLearning / Scenario Character -
Sales Training - real person, sales staff interactions

eLearning / Informational Learning -
Introducing financial concepts to new client - helpful, informative

eLearning / Staff Training Scenario -
Polite response to incorrect answer - helpful, upbeat

---
I am always happy to provide a sample using your script or copy please email me - Jim@JimEdgarVoices to discuss your project in more detail. I've also provided voiceover for the public-facing "California Boater's Card" videos produced by the State of California. Other audio - Commercial Demo - Recent Work - LinkedIn
---
JimEdgarVoices - Studio/Production Facilities:
Since I began working as a voice actor in 2009, I have operated a fully contained project studio to provide high quality results for ongoing projects. This lets me quickly deliver clean, clear audio in a format which integrates into your workflow.
Depending upon your preference, I can supply fully edited, named and split files which are ready to go, or provide options with more variety if you are still dialing in your tone. Given the variety of requirements and specific nature of your project, it's best to communicate directly. I'm always happy to work with you to outline the scope of your voiceover needs - contact me any time - Jim at JimEdgarVoices dot com.
I have served eLearning and training clients starting with my first VO project, ranging from international companies to custom-tailored 1 to 1 learning systems.
I operate a Source-Connect ready studio, and we can easily connect for realtime, directed sessions using that method, as well as ipDTL, Source-Connect Now, Skype, Zoom or other methods which work better for your workflow.
---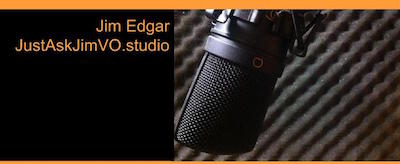 Recording Classes & VO Audio Consulting:
Additional Voice Project Services:
Copywriting
Proofreading
Audio Editing
---
Voice Description -

While physically located in the San Francisco Bay Area, my voice has been heard in many places throughout the world.
I've provided broadcast-ready voice tracks for radio and television commercials, narrations, web videos, eLearning and animated and video game characters.
My basic vocal tone is warm and mid-range - great for caring or conversational spokesperson; Intelligent, knowledgeable and approachable - the helpful teaching expert for training needs or educational and technical narrations.
For your video games and animated adventures, I can provide countless characters to love or hate - from over-the-top mad scientists and caffeinated nerds to more focused and dangerous folk to populate the universe of your imagined world.
I regularly deliver quality audio on time or better, and am always happy to provide auditions specific to your script.
Training -
I've been committing voiceover my entire life, fascinated by recording and acting as long as I can remember. I began focused voiceover training through VoiceTrax, San Francisco in 2007 and have been a full time voice actor since 2012.
Recent work can be found here.