Jim Edgar
Commercial Voiceover Demo

---
For eLearning Projects, please click here

---
Click on the audio below to hear me on a of variety of commercial reads. If you would like to jump directly to different sections of that demo, there's a version of the commercial demo with clickable sections via my Voicezam player. For more extensive examples of completed work, please head to "Recent Work" on this site, or my LinkedIn profile.
Commercial Demo Contents:
clickable sections via Voicezam player
Direct, professional business-class internet service
Upbeat, dynamic lottery
Intimate, conversational, warm & connected auto
Sports enthusiast guy-in-the-next-seat
Knowledgable source automotive (tag)
Conversational, contemporary tech-savvy guy
Whimsical, wondering, storyteller observational
Warm, heartfelt, thoughtful & friendly services recommendation
---
A short sampler for animation and videogame characters -

---
Production/Auditioning Facilities:
I operate a fully contained project studio with a MacOS-based digital recording setup featuring various quality condenser microphones to provide, clean, consistent production-quality audio for your broadcast, video game, eLearning or audiobook project. Able to deliver files in any commonly supported format, as well as a few odd ones. Up to 32 bit, 96 khz quality. If you have a specific project which needs a custom audition, please don't hesitate to contact me. I am happy to provide quick, free turnaround for auditions using your project script.
---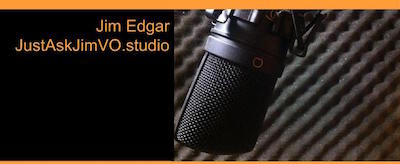 Recording Classes & VO Audio Consulting:
Additional Voice Project Services:
Copywriting
Proofreading
Audio Editing
---
Voice Description -

While physically located in the San Francisco Bay Area, my voice has been heard in many places throughout the world.
I've provided broadcast-ready voice tracks for radio and television commercials, narrations, web videos, eLearning and animated and video game characters.
My basic vocal tone is warm and mid-range - great for caring or conversational spokesperson; Intelligent, knowledgeable and approachable - the helpful teaching expert for training needs or educational and technical narrations.
For your video games and animated adventures, I can provide countless characters to love or hate - from over-the-top mad scientists and caffeinated nerds to more focused and dangerous folk to populate the universe of your imagined world.
I regularly deliver quality audio on time or better, and am always happy to provide auditions specific to your script.
Accents/Dialects/Impersonations -
Russian, Scottish, Australian, German, American, American Surfer, Various North American regional variants.
Training -
I've been committing voiceover my entire life, fascinated by recording and acting as long as I can remember. Focused VO eduction took place through Voicetrax SF and Voice One training classes, as well as through workshops with directors, voice actors, and voiceover coaches and mentors.
Have worked with producers and directors from LucasArts, Leapfrog, Somatone, Bay Area Sound, Telltale Games, Anntena Audio, Sony Games, Blizzard Entertainment, Perfectly Paranormal and more.
I continue to develop and refine my voice, acting and improv skills through ongoing workshops and private coaching sessions.
Examples of recent work can be found here.